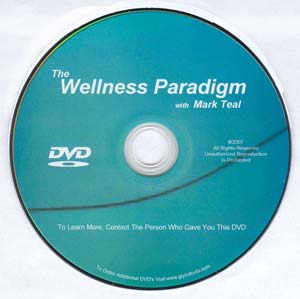 This DVD is a three sided approach slanted toward a "Wellness" focus. (His last presentation Success Now! is also a balanced three sided approach but primarily for a business builder application)

It has some great analogies to help you manage objections and differentiate this technology from its so called competitors. The presentation also covers the need for and value of a proper skincare system, and just a brief mention of the business side.

Mark wraps up the presentation by inspiring people to take action.

Read what some are saying about Marks presentation…

I thought your last presentation was great---I didn't think it possible to excel any higher---until your live presentation "The Wellness Paradigm"------It is Superior in Excellence---exactly what we in the field need to effectively and compliantly communicate this amazing advancement in Science on the function of Glyco molecules in the body. It is not an option to use this tool--it is VITAL.
-Diane E. Findlay, OH

"Mark, I drove 3 hours last night specifically to hear your presentation of "The Wellness Paradigm". Without question, it was the most complete (while still concise and clear), and compliant (but definitely compelling) presentation I have seen of the new wellness course that we are charting!"
-Ron R. Dallas, TX.