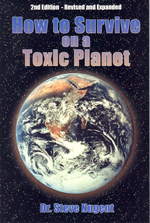 Second Edition - Third printing

Dr. Steve Nugent is an internationally known expert in the therapeutic use of dietary supplements and a leading researcher in the connections between environmental toxins and diseases.

Since 1977, he has educated health care professionals and the public in many countries.

In 1989 his teachings turned exclusively toward the environment and human health.

In 1998, he retired from practice to dedicate all his energies to delivering the vitally important message in this book. Through radio, television, tapes, his writings and his lectures, he has reached millions with this message.

This book is Dr. Nugentís culmination of years of experience and research. You will learn scientific facts, worldwide statistics, and the latest information on breakthrough dietary supplements. You will also find basic tips that will teach you How to Survive on a Toxic Planet.