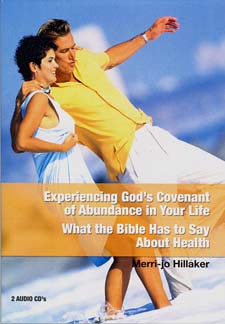 Experiencing Godís Covenant
of Abundance in Your Life

The Bible is clear that we as Godís children will be provided an abundant life: abundance in peace, joy, security, health and wealth. We have many programs and beliefs that prevent us from experiencing His covenant, and this CD examines many of those limitations we have created in our lives.

What the Bible Has to Say About Health

The Bible is not viewed as a nutrition book but it is filled with plenty of advice from the Lord on how to take care of the vessel, the temple He has given us. We vary from the path, and we pay many consequences. Learn more about what the Bible says so you can live a life of obedience and experience abundant health.