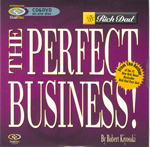 Quantities Limited

Two Discs in One!

What is Dual Disc? A disc that is a DVD (Video) on one side and CD (Audio) on the other. So now your prospect can use whichever format they're comfortable with to get all the information they need.

"To make money and to enjoy financial freedom, you MUST have your own business!" declares bestselling author Robert Kiyosaki.

Millions worldwide enjoy learning from Robert. On the DVD, Robert Kiyosaki shares with you his revolutionary wisdom, just as his rich dad shared it with him. Prospects will discover successful strategies to create personal security and financial freedom.

The DVD side includes:

·An overview of the Rich Dad philosophy

·Summarization of the Cashflow Quadrant

·How to evaluate your key values

·Why Direct Selling is the Perfect Business!

The Audio CD side is a 25-minute audio interview with Rober Kiyosaki that shares his philosphy on THE Perfect Business.

The Audio CD contains these topics:

·How you can take control of your life by owning your own business.

·Why The Perfect Business is a True Equal Opportunity!

·The Perfect Business will have Friends That Pull You Up, Not Push You Down!

·The Perfect Business will teach you the Value of A Network!

·Learn and develop Your Most Important Skill!

·Learn What it takes to develop into a Leader.

·Understand the Value of Not Working For Money!

An IDEAL PROSPECTING audio for your Network Marketing business!