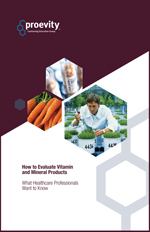 "How to Evaluate Vitamin and Mineral Products
What Healthcare Professionals Want to Know"

Everyone knows they need vitamins and minerals. The problem is, most people don't know how to properly evaluate a vitamin and mineral product.

This exciting and effective brochure from Proevity has a great comparison chart that compares and evaluates 21 of the leading vitamin, mineral, and phytochemical products.

It also teaches you how to read a supplement label and explains the different vitamin mineral technologies now available and reveals how to recognize and interpret the marketing hype and nutrition buzzwords used by so many nutrition companies today.