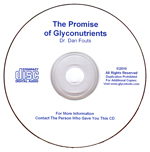 A Big Seller!

On this CD, Dr. Dan Fouts introduces the listener to the new technology of Glyconutrients.

He includes some startling statistics on where the U.S. healthcare system stands in the world rankings and the problems with the "better health through modern chemistry" pharmaceutical concept.

Dr. Fouts also shares the compliant testimonial of Tamara who gained improvement in her immune system function, mental clarity, and overall quality of life after taking glyconutrients.

Dr. Fouts finishes his presentation by taking the listener on a tour of the body, explaining the role glyconutrients play throughout the digestive system, immune system and the brain.