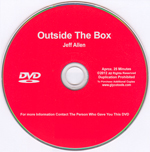 On Sale!
(Quantities Limited)

Original Version - Edited to 25 Minutes

After watching this DVD, Sam Caster stated that this presentation was the best he had seen for presenting the science behind certain nutritional technologies.

This DVD was edited from the original, best-selling presentation that introduced tens of thousands of people to the science of Glyconutrients.

In this presentation, Jeff Allen explains the science and validation of Glyconutrients. He also covers the five systems of the body explaining the need for antioxidants, phytochemicals, food-based vitamins and minerals, and plant sterols.

This presentation is compliant, and very compelling.

Order yours today!