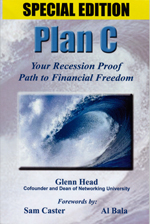 Plan C - Your Recession-Proof Path to Financial Freedom

This is a Special Edition with forewords by both Sam Caster and Al Bala.

Traditional jobs are in jeopardy. Do you have a Plan C? Plan A may be the job you had that is now gone or the job you still have that doesn't offer the security or satisfaction you deserve. Plan B is the job you hope to find in a different company in the same or similar industry. But even decades of experience at the same job are no longer applicable to the rapidly transforming world. Are you caught in a Plan A-B rut? This book shows you how to create your own Plan C.