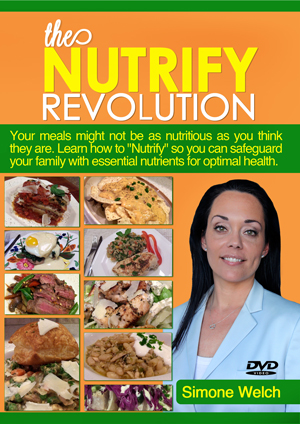 This Data DVD (for your computer not your TV) contains a PDF Cookbook and 3 instructional videos

Simone Welsh is a former private chef for some of the most affluent executives. Specializing in nutritious meals for families, Simone found new NutriVerus™ powder last year and hasn't looked back. Not only does she use it in her own dishes, she has been an early innovator in adding NutriVerus powder as a seasoning to enhance the flavor of foods.

Adding a full dose of NutriVerus powder directly into your food provides RDA levels of food-based vitamins and minerals. Yet, adding new NutriVerus powder as a seasoning, at the right time, provides incredible flavor for savory dishes and salad dressings, breakfast and pastas. NutriVerus powder is a wonderful option for those looking to put back into food, after preparation, what had been stripped away

The Nutrify Revolution provides you with invaluable information on what NutriVerus powder can add to your food, how to stock your pantry for optimal taste while cooking nutritiously, a guide to eating out, and over 75 deliciously nutritious recipes - from Lasagna and Caesar salad, Strawberry Cheesecake and Chocolate Banana Shakes, to Gazpacho Raw Soup and Beefsteak Tomato Salad.

Recipe Sections Include:

- Breakfasts
- Sandwiches
- Salad Dressings and Salads
- *Raw, Vegan, Vegitarian versions (in many recipes)
- Appetizers
- Main Courses
- Dessert Shakes
- Sauces and Soups

Order Yours Today!