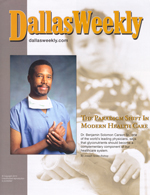 On Sale!
(Quantities Limited)

Now Includes Dr. Rollins!

This article entitled "The Paradigm Shift In Modern Health Care" is the story of how Dr. Ben Carson, one of the world's leading physicians, was introduced to the technology of Glyconutrients. Dr. Carson was diagnosed with a serious health challenge and attributes complementary medicine for helping in his recovery.

Also in this reprint is an excerpt from the Dr. John Rollins Atlanta Voice article, which discusses the science and validation of Glyconutrients.